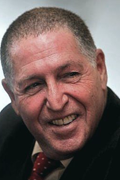 Prof. Zohar Ben-Asher
Academic Director & Chief Scientist
Prof. Ben-Asher has been educated in Israel, USA and UK where he also held senior academic positions for many years in the areas of Strategic Planning and Management, Business Economics & Methodology.
Zohar has also taught at institutions of high learning in various countries in Europe, Asia and America.  He is a long-standing expert and reviewer in European Framework Programmes and he is renowned China scholar. Zohar brings in his extensive theoretical & methodological research experience, along with long standing strategic practice in planning, organisation and management. Apart from EU & other internationally funded sceintific & technological projects, Zohar has been actively involved in planning and management of projects in the areas of strategic planning and sustainable development, policy formation and government, management, education, methodology and Asian business. Zohar has written numerous academic works that can be viewed in his personal website.
Zohar has developed and executed programmes for staff performance assessment and promotion policies at universities and a programme aimed at the improvement of universities' international ranking.
Further details of his professional history & experience can be found in Zohar's CV.