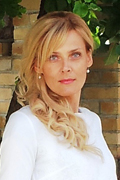 Prof. Loreta Ulvydiene,
Principal, Lithuanian & Baltic Operations;  Expert on Inter-Cultural Communications 
Loreta is a Professor of Inter-Cultural Communications & Translation Studies at Vilnius University Kaunas, Lithuania (BUK) and former Vice Dean, Faculty of Humanities with special responsibilities in the area of Project Coordination.
Loreta has developed and taught courses in Translation and Cross-cultural Communication, Audio-visual Translation, Literary Theory and Criticism, Academic Language and Research Methodology, Mass Communication and more. She has been contributing to the Universal Lithuanian Encyclopaedia, published by the Science & Encyclopaedia Publishing Institute and is the author of numerous papers and articles. Loreta is a member of EST (European Society for Translation Studies and a member of Editorial Board of Journal for Distance Education (TOJDE) and EAAS (European Association for American Studies).