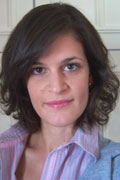 Dr. Carla Colageo
Principal, Italian Operations; Expert on European Projects
Dr. Colageo is a well experienced professional in the fields of European Projects Management and Policy Planning. She has been involved in the establishment of the Italian Confederation of Enterprises' Delegation in Brussels, where she has also had a direct role in providing information on EU programmes and funds and advising on procedures required to apply for them. Carla has also served as business advisor with  responsibilities also for areas such as taxation, accounting, management of work and obtaining funding for enterprises and academic & public Institutions. She has also worked with the Belgian-Italian Chamber of Commerce in Brussels and the Italian Trade Commission with particular responsibility for studies and research on the internationalisation of Italian firms.
Carla has graduated in International Relations from the Faculty of Political Sciences of the University of Perugia (Italy) and received her Master's Degree in European Studies from Université Catholique de Louvain in Belgium.
Carla is responsible for EuCRF operations in Italy, which include management of contacts with research organisations, industrial entities, start-ups and institutions wishing to participate in internationally funded projects, projects' drafting and project management.