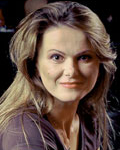 Dr. Anna Raczynska,
Principal, Polish Operations; Expert on International Banking & Finance
Dr. Raczynska has been educated in Economics, Business Finance & International Banking, as well as Value Base Management and had received her Ph.D. from Warsaw School of Economics. Anna has rich interdisciplinary, professional experience in international environment across Corporate & Retail banking; Risk Assessment and Risk Management, Restructuring & Collection, Basel Requirements, IFRS, US GAAP; Financial Control and Compliance. She is highly experienced in managing teams of various sizes and has demonstrated outstanding project management and analytical skills.
Anna's professional experience includes working for the Polish Government as well as for various banking and financial organisations. She is a member of the Global Association of Risk Professional GARP. Anna's work experience also include work on Risk & Capital Management, Corporate Valuation, Investment Banking, Research, Innovation and, of course, Financing.